Solargraphy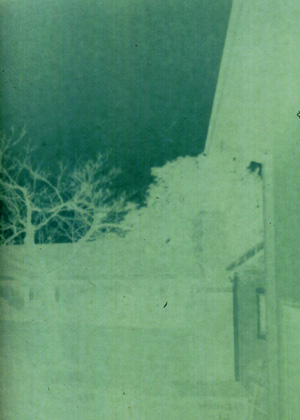 My first solargraph scan.
Joanne Koltnow
sent me a link to an site on
solargraphy
. It's such an amazing process. You expose a piece of photographic paper in a pinhole camera for a long time - weeks or months - depending on the size of your pinhole and your patience. Then you remove the paper in dim light and scan it. No chemicals! Repeated scanning degrades the image pretty quickly.
The images can be expressive and dreamy. Great potential for an artist's book. They are negatives, but can easily be inverted with photo editing software.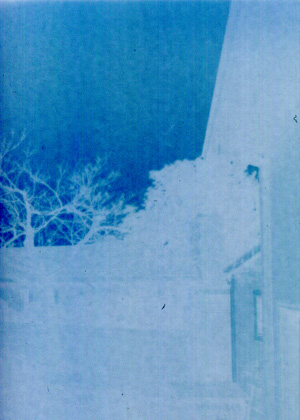 Second scan. I didn't make notes, but I think I hit the "auto" setting this time. Also made the selected area smaller to keep the scanner from running so long and shining excess light on the paper. The third scan was terrible - I increased the resolution so much that the scanner kept pausing, which made bands as the paper got bluer. My fourth scan was a much darker blue, and most of the details were gone.
All these images are from one piece of photo paper. I took them with my
oatmeal pinhole camera
, the pinhole was about .33 mm.